Set Clothing Combination System
The Set Clothes Combining System is a new system that will allow players to trade in permanent versions of clothing to gain new clothes that have extra bonuses for using pieces of the same "Set". This system will be accessible through NPC Fricka, and will allow you to combine two of the same permanent clothes versions into one piece of "Set" clothing. Each piece (cap, pants, top, glove, shoes) can be combined in this way to complete your clothing "Set" and gain the extra bonuses that come along with them. The more pieces of the same set you wear, the more bonuses you gain!
So visit NPC Fricka and choose the new option available from her menu once you get two of the same new Spring 2012 clothing pieces as shown below.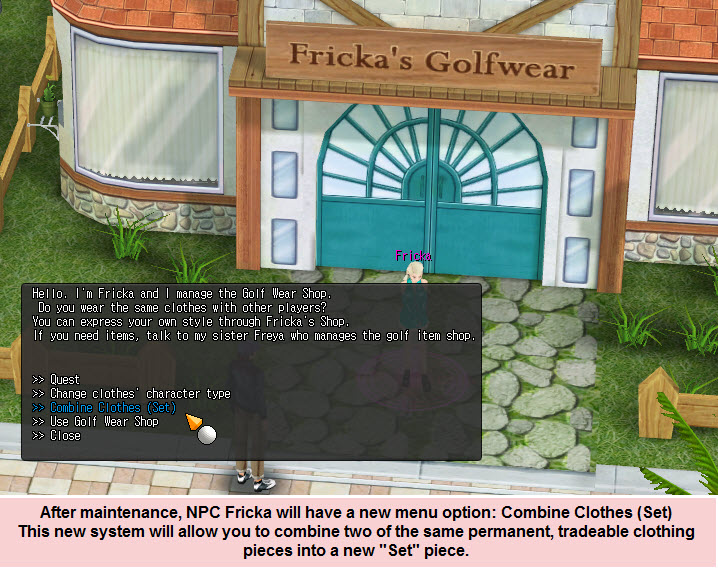 After selecting the option, a new window will appear allowing you to select and combine the clothes into a new "Set" clothing piece.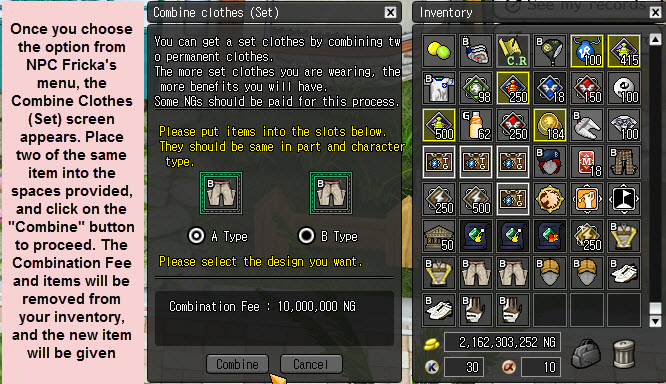 Once you have chosen and accepted the clothes to be combined, the process completes and you are given the new Set Clothes 1 piece depending on which clothing item you combined. Each clothing piece (cap, shoes, pants, etc) can be combined to make their "Set" version which has enhanced benefits on the item and also adds to your Set total to add more bonuses for wearing them all at the same time!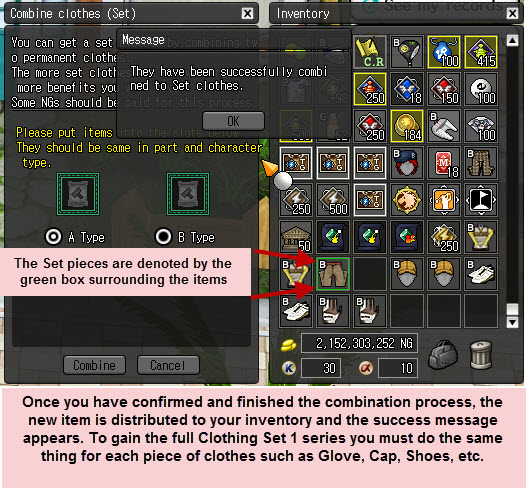 The more pieces of Set Clothes you wear, the better the bonuses get. For wearing 2 pieces you gain Skill Stat +1. For wearing 3, you gain another Skill Stat Point, so it changes to +2 bonus Skill. At 4 pieces you gain another Skill Stat Point which gives you +3 bonus Skill, an extra Practice Density Point, and also +10% Bonus EXP! To gain the best benefit though, you have to collect all of the pieces :)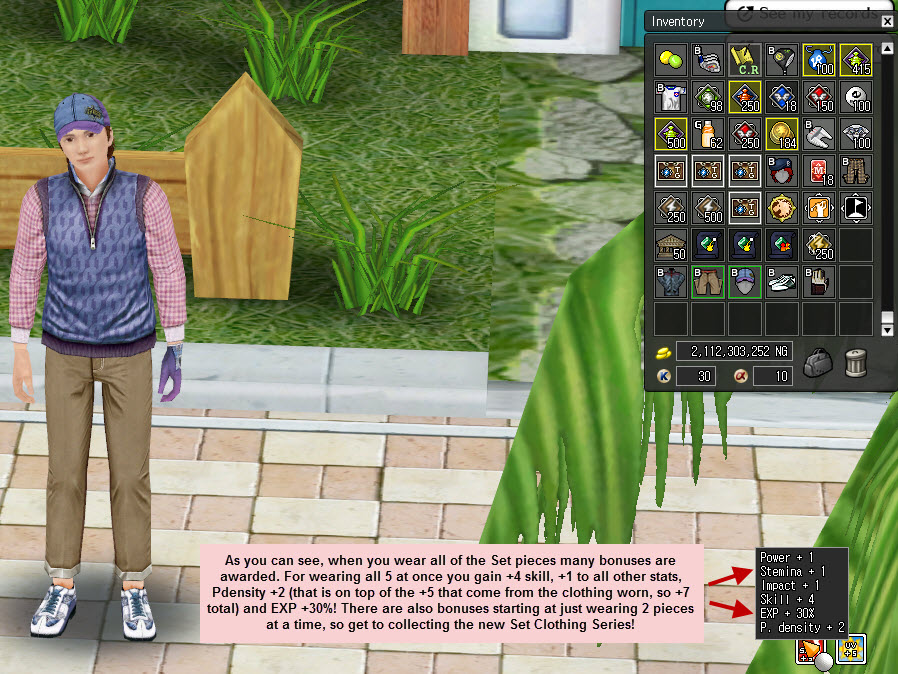 NOTICE: Only the new Gorgeous clothing series and those introduced since will be usable with this system. So Tidy, Hiemal, Adaptable, etc clothing series from the past will NOT work with this system. Each new clothing series released including and after the Gorgeous series will be combineable with this system.
Please note that the KP version is the only version that will come from combining clothing types; if you combine two IK versions you will get KP and if you combine PI and IK together you will still get KP.