*NOTICE: Currently there are some clubs that cannot recycle, although they are not purchased from the NPC Salvador store. They include the Antique series (pathos and luna, etc), Werdandi, and other clubs that have a level restriction on them. We are working to find out if those clubs can be released for recycling, and will update when we find out what to expect*
Club Recycle System
The first thing you should do is visit
NPC Salvador
and access his menu for the new option as shown below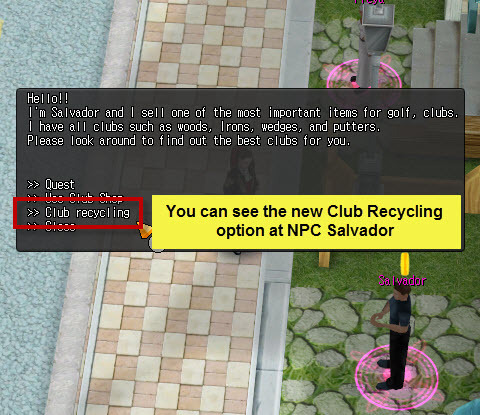 Once you select the option for Club Recycling a new window will appear with a space for your club to be put into.
**** ONLY Repairable, Tradeable clubs that were not bought from NPC Salvador's store may be used with this system. Non-Repairable and Non-Tradeable clubs or clubs gained from the NPC Salvador store cannot be used .
ALSO-----GEMS WILL NOT BE RETURNED IF THEY ARE ON THE CLUB WHEN IT IS RECYCLED****
If you choose to recycle a club with no fittings applied, the most you will get in return for it is a Recycle Box. Fitting Plus/Fitting Recovery tickets are not returned through this system, only Stat Fitting Tickets.
All items gained from this system are Tradeable, including the Perfection Tickets.
These Recycle Boxes contain Pins, Gems, and NG amounts randomly.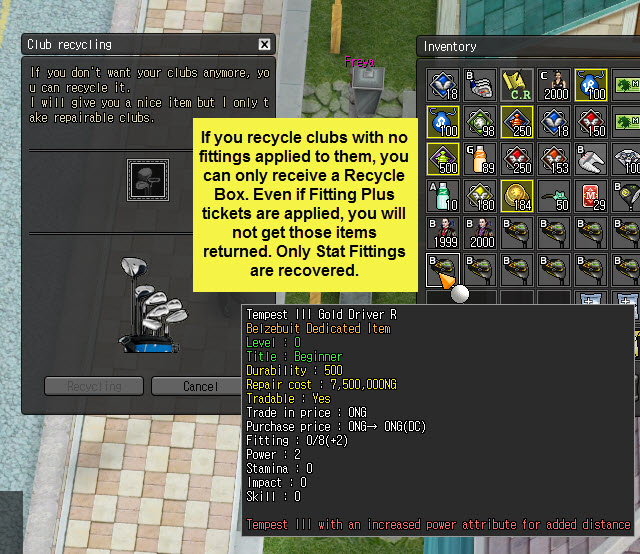 Once you decide which club you wish to recycle, just move it from your inventory to the Club Recycling window to the space provided. After that, click on the "Recycling" button at the bottom and you will be asked to confirm the selection.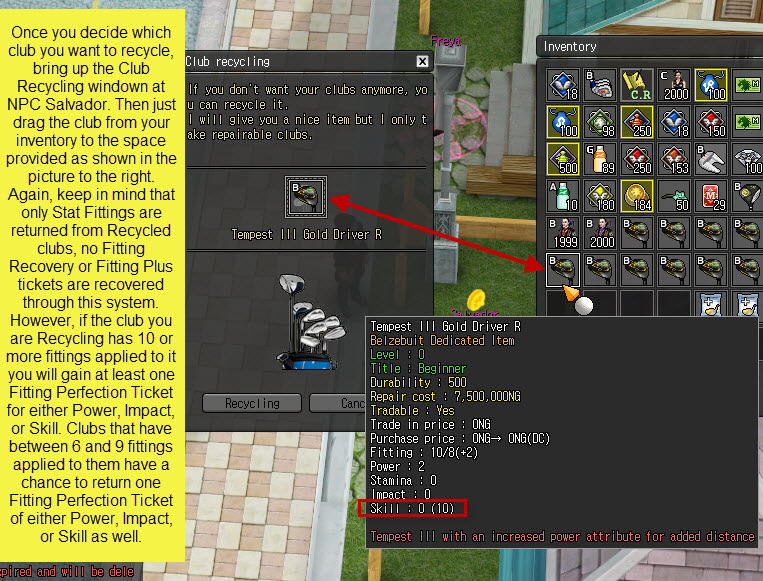 Once you confirm your selection and proceed with Recycling the club, you will be presented with a Results window showing what items you received in return for your club. All Stat Fitting Tickets applied to the club will be returned, along with at least a Recycle Box for clubs turned in that have less than 10 fittings.
Those clubs turned in with between 6 and 9 fittings also have a chance to provide you with a Fitting Perfection Ticket.
However, if you turn in clubs with 10 or more fittings applied you are guaranteed to receive at least 1 and up to 2 Fitting Perfection Tickets in addition to the Stat Fitting tickets on the club and the Recycle Box!!!
All items gained from this system are Tradeable, including the Perfection Tickets.
*NOTICE: You can gain either Power, Skill, or Impact Fitting Perfection Tickets from this system. The different types are given in a random fashion, so you won't know what kind you will gain until the Recycle process is complete*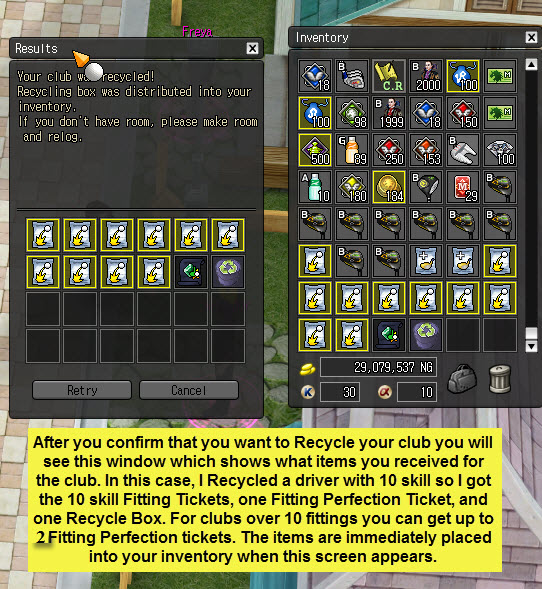 *NOTICE: Only Repairable clubs not purchased from Salvador can be turned in to be Recycled. So any Tempest, Tornado, Hurricane, Hybrid, Cyclone, CTL, Isis, etc repairable club can be turned in but no clubs from the in game shop (at Salvador) can.