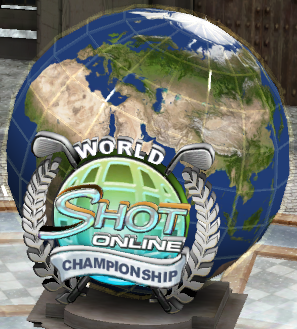 Hello!
In order to keep a game fresh it is necessary to make some changes every once in a while.
The current lifecycle of Shot Online has already exceeded the wildest dreams of its creator, Kevin Kim, back in 2001/2002.

Despite the setbacks that have plagued Shot Online in the past few months, we start the new year by presenting you a giant package full of innovations, which are bound to shake things up a bit.

We have three big content points prepared for you!
SOWC - Shot Online World Championship

The SOWC is a new system, which allows every player to compete with others from all Shot Online servers. The current Shot Online servers are: Korea, Japan, USA/Global, Spain, France and Germany.
Some of you may think at this point, "Hang on a second, this is nothing new, we already have the WRT!"
Players from all over the world square up in 1v1 matches
The Shot Online World Championship (SOWC) is a new feature that gives you the opportunity to show your skills to the worldwide Shot Online community. The SOWC allows you to play 1v1 matches against players from other Shot Online servers.

The 1v1 matches do not require that both players be online at the same time. You record your 1v1 round, known as your "Qualification Round" and then players from other servers will play live 1v1 SOWC Matches against your Qualification Round. When you play your own SOWC Matches you will be playing against a recording of another player's Qualification Round.

To participate in the SOWC you must be level 120 or higher and have title of National Pro I or higher.

SOWC is run over an entire week, 3 times per month. Each week's play is conducted as follows for only the 3 weeks of SOWC:

1. Qualification Round: Monday is a day devoted to Qualification Round play and takes place over 10 holes from 3 courses (one par 3, one par 4 and one par 5on each course), and a 10th hole from one of the 3 courses. This 10th hole will be used in SOWC Matches as a tie-breaker, using Closest To The Pin format (when you play you have one swing, and distance from hole is recorded). You have up to 5 tries to record a Qualification Round. Each additional try will cost 1 million NG.

2. SOWC Matches: The remaining 6 days of the week (Tuesday to Sunday) are devoted to 1v1 SOWC Matches. When you click the Match button for an SOWC Match, you will be matched against a previously recorded Qualification Round from some other player. You play a Stroke Mode game against this recorded score.

4. The 1v1 SOWC Matches are "best of 5" format using 5 holes of the Qualification Round of the other player. If the match is tied after 5 holes, a 6th hole is played using "Closest To The Pin" to determine the winner. (This tie-breaker hole is always the 10th hole of the Qualification Round.

5. After the 3 weeks of match play, rewards will be provided to players according to their monthly ranking.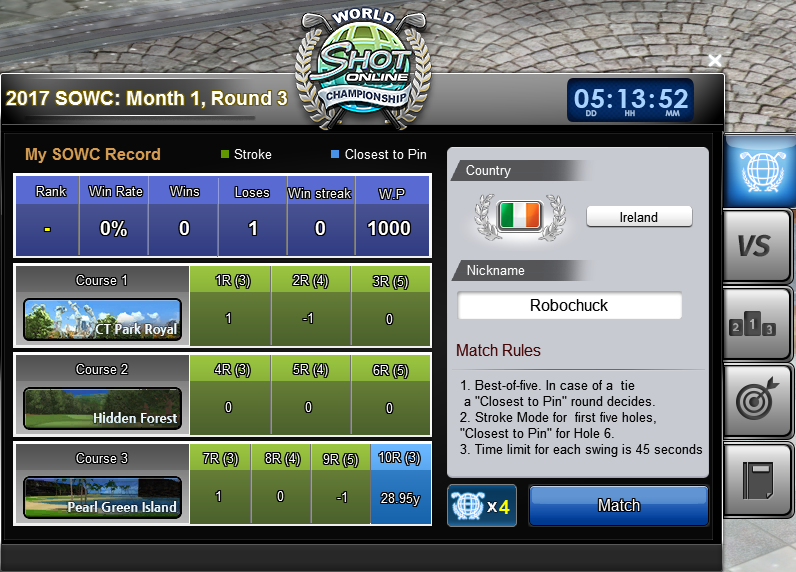 ■ The 1v1 matches are played in the so-called "Ghost Stroke Mode", which means players must compete against the recording of a game played by another SO enthusiast from anywhere in the world.
Not only is each match played under exactly the same weather conditions, but players can also see their opponent's clothes and type of character as well as the shots in exactly the same way as they were played.
■ There is a daily limit to free participations in SOWC matches. A limited number of further participations can be purchased with NG.
■ Time limits similar to those found in systems such as the WRT or the PvP League, where players are required to join at a certain time in order to play, DO NOT APPLY to the SOWC. Players are free to schedule their matches throughout the week.
■ Counting the status of "unranked", there are altogether 22 ranks in the SOWC. The lowest rank is "D", which follows "DD", "DDD", and "DDD+", while on the other end of the spectrum "SSS+" precedes the top rank of "Champion".
■ Rewards can be earned by completing weekly quests as well as for the rankings at the end of each month.

Highlights among the rewards are the EXP Boxes, which grant players between 1% (rank: CCC+) and 50% (rank: Champion) of the EXP needed to progress to the next level.

■ First Round on SOWC on US server will take place in February.



Guild Missions
Guild Missions are weekly quests consisting of 10 stages, which must be completed alternately by either 2, 3, or 4 guild members.
The following table shows the structure of the Guild Missions (cells marked in yellow are examples of the stage composition). A set of possible variables will be randomly selected.
The number of birdies/pars required will increase with each stage.
Guild
Members
Mission Course
Game Mode
Min. Score
2 or more
Hard Course
Swift Stroke
Par
3 or more
Course 1
Four Ball
Birdie
4
Course 2
Course 3
Without a specific application, each round that meets the requirements will count towards the result.
The current status of the Guild Missions can be checked via a new tab in the Guild Menu (Alt + G).
For the successful completion of Guild Missions, players receive so-called "Contribution Points". These points are required for another new feature, which we will introduce below.
Each guild member can earn up to 100 contribution points per week for their guild.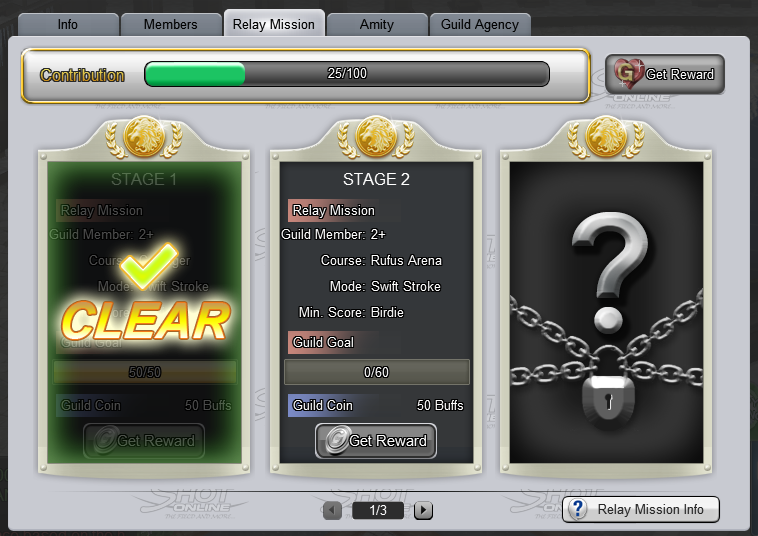 Once a Guild Mission stage has been completed, the guild master, an advisor, or a sub-master can collect the reward, which takes the form of guild coins. The received guild coins are deposited in a specially created account and a message appears in the guild chat.
Guild Agencies
Please don't hold it against us, if we keep this topic very short.

That doesn't mean that this feature isn't important. On the contrary, it's so complex that we prefer to describe it in detail in a separate announcement, which will also contain some video footage for those not-so-avid readers among you.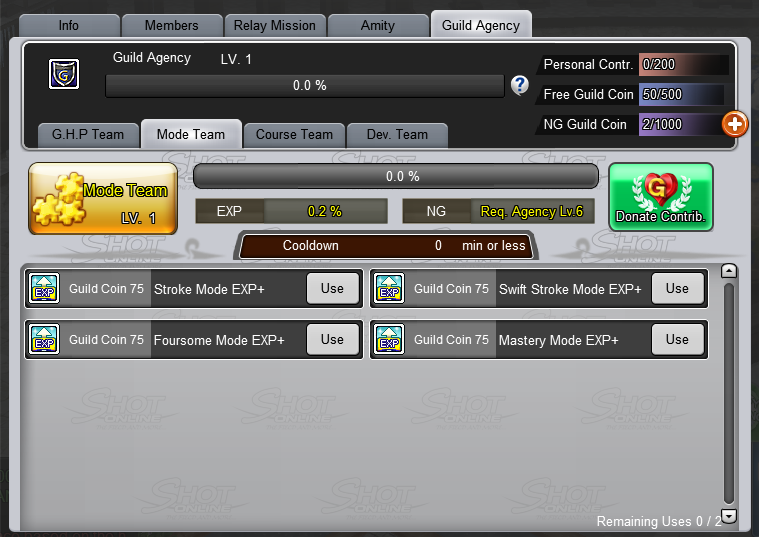 In short:
■ Guild Agencies are new "Sections" of a guild, which can be leveled separately by guild members spending contribution points.
■ There are 4 of these agencies:
● G.H.P. Team | ● Mode Reinforcement Team | ● Hard Course Reinforcement Team | ● Product Development Team
Each agency contributes to the guild with specific bonuses for different areas.

The G.H.P. Team grants access to extended G.H.P. bonuses, which can't be bought with G.H.P. but need to be purchased with guild coins. Other agencies grant EXP bonuses for specific game modes or particular courses.
These modes apply to the entire guild.
Keep on golfin',
Your Shot Online Team.
---