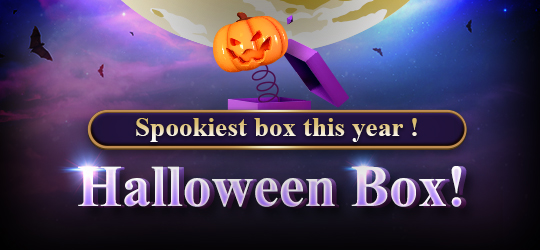 DONE

Oct 29, 2021 12:00 ~ Nov 04, 2021 02:00
Halloween Box
Trick or treat? The spookiest box this year is here!

Masteripiece clubs, UV clothes and upgradet items!

Buy 10, Get 3 Free
4990 CC
PURCHASE

Buy 5, Get 1 Free
2495 CC
PURCHASE

Buy 1 499 CC

Please note that "PURCHASE" links only become available when the sale starts!

Our most loyal box buyers get additional rewards!

Contains one of the following items (Name / Amount*):
Trick or Treat
EXP Bundle
Ampulla Toadslime 55% 25
Mageia Plus N7.5 150
Theurgia P75 150
Persephone Gem 1000
Diamond Tee 10
Grace Vela VIP Card - 7 Days [50%]
Trick or Treat
Anniversary
Stat Bundle
Zodiac Gem III 2000
Zodiac Pin III 2000
Avatar Card Book
Black Scyther K-2 [35%]
UV G2 Wristband Box
Pumpkin Cupcake AA
Trick or Treaty
Reinforce
Bundle
Club reinforcement ticket - Group 1
Club reinforcement ticket - Group 2
Fitting Ticket - Skill Perfection Plus
[Sealed]Legend crafting hammer
[Sealed]Legend effect change hammer
[Sealed] Blessed Legend Crafting Hammer
Upgraded
Items
Bundle
Ampulla Toadslime 55% 50
Epimetheus EXP Badge 11% 250
White Scythe K-2 [40%]
Halloween Brooch [35%/35%] 250
Trick or Treat
Mini Bundle
Ambrosia 55% 50
Anniversary Ball Marker AA
Persephone Ball 4PC [55%]

3x Fitting Recovery Ticket
One Point Lesson TIcket 200/250/300