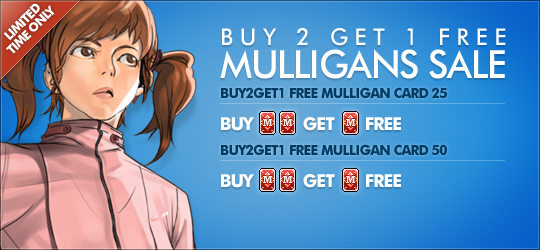 DONE

Sep 10, 2012 16:00 ~ Sep 14, 2012 15:00
Hello everyone!

We will be having a sale on Mulligan Cards for a whole week! With the Mulligan Cards on sale
Using the Mulligan Cards will not only save a bad shot but give you an extra shot attempt, which will provide more playing experience. Try the Mulligan Cards and see if you can discover a new way to approach the green! = ]
NOTE: You can also purchase these items from the in-game item mall!
Sale Period:

Start: 09/10/2012 16:00 PM server time
End: 09/14/2012 15:00PM server time

We hope you enjoy this sale!