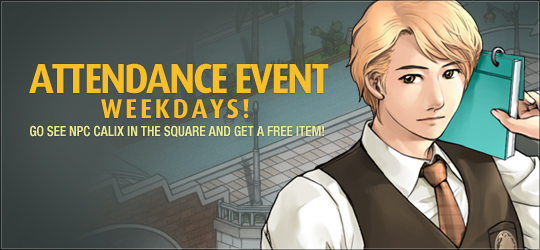 DONE

Jun 13, 2012 00:00 ~ Jun 29, 2012 23:00
Hello golfers!
After the maintenance tonight(6/12/12), you can log-in during the weekdays to get a free item from NPC Calix! Check the information below!
The Daily Attendance Event Info
Players can receive one free item per day(limit one per account) from NPC Calix.
This is a special Daily Attendance Event and we will not release the item list!
You will have to log-in and find out what the daily attendance prize is on YOUR OWN.
We will also give out

1 free 'Card Collection Event' card each day!!
Don't forget to receive your free prize/card everyday!!!
Note: Daily Attendance Event is only on weekdays!! (Monday ~ Friday)
Note: Prizes are non-tradable



Start: 06/12/2012 After Maintenance
Thanks,
[GM] Cloudy