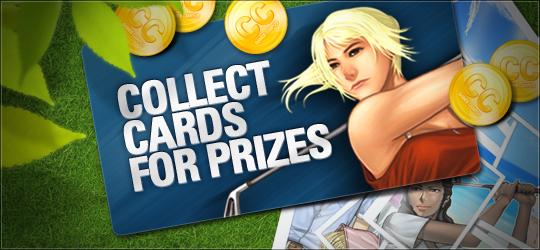 DONE

Jun 12, 2012 00:00 ~ Jun 26, 2012 21:00
Hello Everyone,
Hope all of you enjoyed the last week's Card Collection event!
Another Card Collection Event will be starting again tonight after the maintenance!
Remember to submit your Collection Cards for the cool prizes!
We are giving out 1 card everyday for free through the Daily Attendance Event! For more information on this event, please go
*HERE
*!
At the end of each collection period, all cards that are kept in inventory and lockers will be deleted for the next event.
We will send out the prizes during the maintenance on 6/26/12.
Don't forget to submit all your cards prior to the server maintenance.
~Collection Card Event Period~
Start: After the maintenance on 06/12/12
End: 06/26/12 21:00:00 server time
Drop source: Inside Present Box D from playing!
Submit to: NPC Calix

Prizes:
10 cards -
Power Drink A (10)
20 cards -
Avatar Extension 7days
35 cards - Mulligan (10)
55 cards -
Fitting Recovery (3)
80 cards -
Theurgia P25 100
110 cards -
Ambrosia 15% 25 & Swing Trainer 15% 3 K
130 cards - All of the above!!
On top of the prizes above, since it has been awhile since we had the "Card Collection" event, we added a little extra prize for the top 3 players from the each server!
The top 3 card collectors from the each server will be rewarded with a free 1 month Gold Platinum Membership on top of the original prize that they've won.

Also, we are planning to run this event regularly from now on(every 2 weeks, the event will be reset) so if you have any items that you would like to win from this event, please send us a DQ&A and we will try to add the requested items to the prize list. (We will be changing all the prizes every 2 weeks when the event is reset)

Hope everyone can participate and compete for the free Gold Platinum Membership prize!
Please remember that you will only receive the top prize for the amount of cards you turn-in.
For ex. If you turn-in 37 cards, you will ONLY receive the "Mulligan(10)" prize.
*Note: this list only applies to the number of cards submitted; it does not include the cards left in the inventory or lockers.
*Note: the cards and prizes in the list are all non-tradable.
Thanks,
[GM] Cloudy