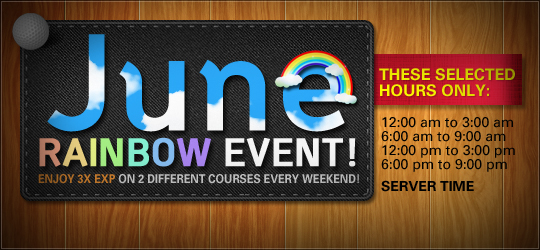 DONE

Jun 02, 2012 00:00 ~ Jun 24, 2012 21:00
SO Community,
We are doing
TRIPLE EXP
on
14 different courses
for
4
weekends
in a row
! Each day will have 2 courses that will have
3x EXP
ONLY during the following hours;
12:00 AM ~ 3:00 AM
,
6:00 AM ~ 9:00 AM
, 12:00 PM ~ 3:00 PM
and 6:00 PM ~ 9:00 PM.
And everyday at midnight, the courses will change to the next one. On the last couple of days (June 23rd and 24th) all courses listed below will have the
3x EXP
event running for 48 hours!
Have fun everyone, and enjoy all the Bonus EXP!
NOTE: the in-game event board will say 200% EXP but it means 200% MORE EXP. Rainbow Events will be 3x EXP.
Sorry for the confusion, we'll be changing the text of the in-game event board during the maintenance of June 26th.

Rai
nbow
Event
Course
Schedule
Red Day - June 2nd, 2012(Saturday)
Wattsu
Gleiger
Orange Day - June 3rd, 2012(Sunday)
Forneus
Pearl Green Island
Yellow Day - June 9th, 2012 (Saturday)
Hela
CT Park Royal
Green Day - June 10th, 2012 (Sunday)
NamChonCC
Cadeiger
Blue Day - June 16th, 2012(Saturday)
Gladsheim
Hidden Forest
Indigo Day - June 17th, 2012(Sunday)
Fensalir
Rufus Arena
Violet Day - June 22th, 2012 (Friday)
TokenTado CC Nagoya
Abel Plena
Rainbow Day - June 23rd/24th, 2012(Saturday,Sunday)
All courses listed above


Notice: happy courses will be turned off during these days.
Let us know if you have any questions and enjoy the rainbow event!
Thanks,
Shot Online