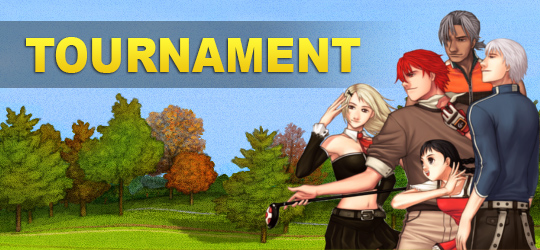 DONE

Nov 24, 2017 12:00 ~ Nov 30, 2017 23:00
Hello Shot Online Community!
Winter is coming! And as its getting colder, new Season is coming near! so let's get some warm-up done before real challenge! Welcome to the Winter Tournament!

Here are the rules:
1)
Only ONE (1) character per IP adress allowed*
2)
Course
:Volcano
3) Number of attempts: 10
4) Cards: Players can submit up to 4 cards. Minimum of three cards needs to be submited
4) Score: Three best scores will be counted. Lowest total (sum of best 3 results) will be deciding factor. First Tie break will be level (lower level first), secondary tie break will be submision time of last card.
5) Mode: Stroke
6) Minimal level: 60
7) Entry Fee: First tries are 100000. Costs increase with participation.

Now the interesting part: Prizes!

Top Three player will receive Titan G Clubs. The rest of reward will small and large Tournament Boxes

There will be 3 brackets and TOP 20 list.
Level requirement for brackets will be announced AFTER the tournament is over (based on participation)

Every player who submits three valid cards, and get combined score under 210 will get a surprise consolidation prize.


TOP 20


1st place: Titan G Iron Set R + 15 Large Tournament Boxes + 15 Small Tournament Boxes
2nd Place: Titan G 5W R +14 Large Tournament Boxes + 15 Small Tournament Boxes
3rd Place: Titan G 3w +12 Large Tournament Boxes + 15 Small Tournament Boxes
Places 4-10: 11 Large Tournament Boxes +15 Small Tournament Boxes
Places 10-20:10 Large Tournament Boxes + 11 Small Tournament Boxes

Bracket 1

1st place: 10 Large Tournament Boxes + 10 Small Tournament Boxes
2nd Place: 9 Large Tournament Boxes + 9 Small Tournament Boxes
3rd Place: 8 Large Tournament Boxes + 8 Small Tournament Boxes
Places 4-6: 7 Large Tournament Boxes + 8 Small Tournament Boxes
Places 7-10: 5 Large Tournament Boxes + 5 Small Tournament Boxes
Places 10-20: 3 Large Tournament Boxes + 3 Small Tournament Boxes

Bracket 2

1st place: 9 Large Tournament Boxes + 9 Small Tournament Boxes
2nd Place:8 Large Tournament Boxes + 8 Small Tournament Boxes
3rd Place: 6 Large Tournament Boxes + 6 Small Tournament Boxes
Places 4-6: 5 Large Tournament Boxes + 5 Small Tournament Boxess
Places 7-10: 4 Large Tournament Boxes + 4 Small Tournament Boxes
Places 10-20: 2 Large Tournament Boxes + 2 Small Tournament Boxes

Bracket 3
1st place: 8 Large Tournament Boxes + 8 Small Tournament Boxes
2nd Place:6 Large Tournament Boxes + 6 Small Tournament Boxes
3rd Place: 5 Large Tournament Boxes + 5 Small Tournament Boxess
Places 4-6: 4 Large Tournament Boxes + 4 Small Tournament Boxes
Places 7-10: 2 Large Tournament Boxes + 3 Small Tournament Boxes
Places 10-20: 1 Large Tournament Box + 2 Small Tournament Boxes
Additionaly we will give 10 random "lucky losers" (who didnt get prize in any category) 1 Small Tournament Box.

Results will be published within 7 days from the end of tournament. Prizes will be awarded with 7 working days from publication of results. In case of tie (same score), lower level player will be winner, earliest submission time of last card wil be used as 2nd level tie break

*Special allowance can be made for members of same household who prove their identity. Please submit DQA before tournament ends, and inform us about your circumstance. Appeals made after tournament ended will not be taken into account. Thank you for your understanding.

We wish you all good luck, and good weather!

Shot Online Team