Hello Shot Online Community,

Here are your events in March! Apologies for the late posting.

Please click the image to see it in full size. Also, please note the comments below the image for further explanations about the Mini Game Event, adjusted EXP Events and Dormant Account Event.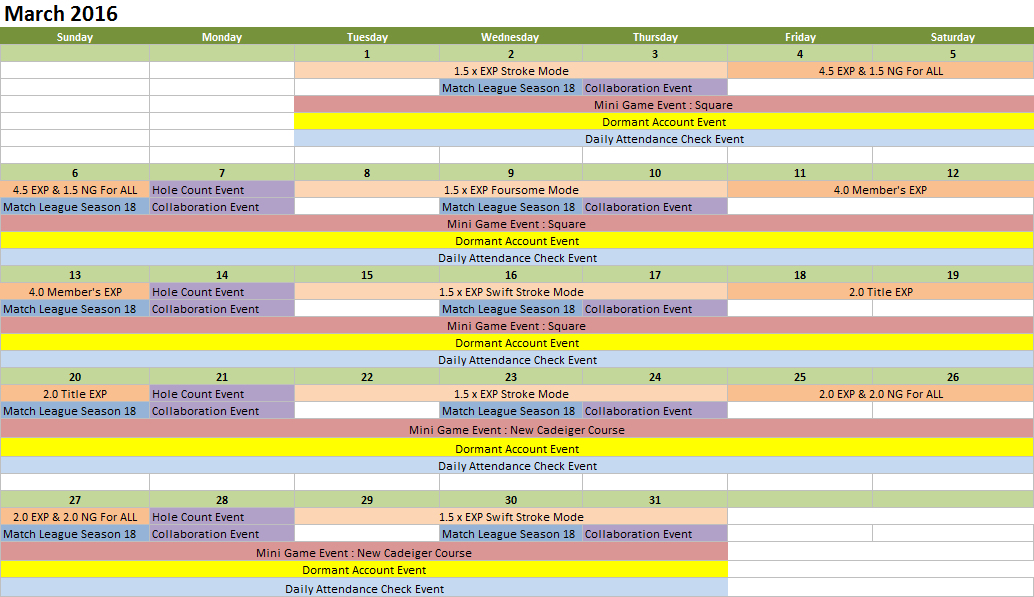 EXP Events
As you noticed, our EXP Events will be lowered starting March 15th. This is because March 15th is our tentative maintenance date for the EXP Table adjustment. If you have not heard about this, please read our open letter by clicking here.

Since our version of Shot Online hosts many players around the globe, we are currently scheduling EXP Events after March 15th to run during the following times (times are server time):
Change of major EXP events (on weekends):
07:00 ~ 09:00 (2 hours) *NEW*
11:00 ~ 13:00 (2 hours)
16:00 ~ 18:00 (2 hours)
19:00 ~ 21:00 (2 hours)
Minor EXP (1.5x event during the week) events will continue to run 24 hours, however, might happen only once or twice a week, instead of 3 times a week.
We understand that this change might upset some players, so we encourage you to read the open letter about the EXP Table adjustment. We will continue to tweak EXP Event setups to accomodate most players, so please let us know if you have other suggestions for this through our forum. Thank you!

We are also currently in discussion with the Shot Online Europe Team to work on an event schedule for April that is more consistend between each region. Stay tuned for more information about this!
Update (3rd March)
Please note that the event times are currently being re-discussed. We will update this announcement next week with more information and potentially adjusted time frames.


Update (7th March)
To accomodate more players playing from Europe, we have added an additional, 4th time slot in the morning from 07:00 ~ 09:00. We have also decided to utilise an in-game item which provides an EXP boost for 1/2/3/4 hours. This item (Bianca Token) will be given out through regular events such as Hole Count or Mini Game. This should allow all players to run their own "personal EXP event" whenever they want.
Dormant Account Explanation

Users who didn't play Shot Online for at least 30 days will receive daily, bound rewards for 7 days. These rewards are secret, however, we can assure you that your daily log ins to Shot Online will be greatly rewarded and immensely useful for your character progression!

Please note that both criteria must be met in order to be eligible for rewards:
1) The account was not logged in to Shot Online for at least 30 days
2) The player logging in to a dormant account must not have played Shot Online for at least 30 days



Mini Game Information

Please note that the Mini Game event does not run continuously throughout the month without resetting. When the Mini Game mode changes (for example from Mini Game Event: Square to Mini Game Event: New Cadeiger Course), the event is stopped, everything is reset, and the new Mini Game mode starts.

We advise to spend your earnings from the Mini Game event prior to the Mini Game mode changing. Please also note that during the transition from one mode to another, the Mini Game might not be available for a few hours on that day.