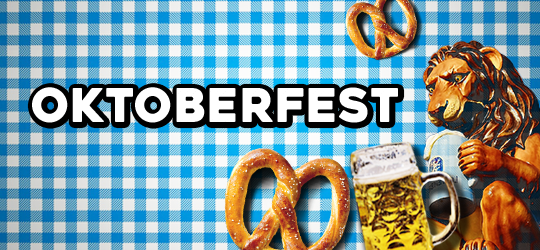 DONE

Oct 02, 2019 00:00 ~ Oct 09, 2019 23:59
Dear Shot Online Community,

We hope you have enjoyed our Anniversary events!
Now that anniversary events have been concluded, until our upcoming Halloween, we have prepared an extra set of events for Oktoberfest!

Details regarding the events can be found below:

1. Oktoberfest Costume Giveaway
What would be a festival without a costume?
You will be able to pick up your Oktoberfest Costume (100 holes) from NPC Melias between October 2nd 00:00 until October 9th 23:59 !

The costume will be available for pick up once per account during the event period.

2. Oktoberfest Holecount (October 2nd ~ October 9th)
Gather Pretzels and Gingerbread Hearts by playing our daily Oktoberfest Holecount Event!
Details of the holecount can be found below:
Course
No. of Players
Mode
No. of Birdies
Reward
All Medium and Hard Courses
2~4
Swift Stroke or Foursome
20
1 Pretzel
40
1 Gingerbread Heart
All items are non-tradeable
The above "Event-items" used as material will expire after 14 days.

3. Oktoberfest Missions (October 4th ~ October 7th)
We have also prepared some missions to keep you busy during this Oktoberfest weekend!
Details can be found below:
Mission: Score a Birdie or better for 1 Mission Box
Course: Sky 72, Volcano, Gladsheim, Rufus Arena, Cadeiger
Modes: Swift Stroke and Foursome
Number of Players: 2~4 Players
Holes: 3, 4, 9, 13, 14, 18
Rewards: 1 Mission Box
Limit: 10 times per account

CAUTION:
The Mission Box will expire after 7 days upon receipt. It would be best to open the box right away you receive before it disappears 😊.
The Mission Box and all items within the box are non-tradeable.

4. Exchange the Pretzels and Cookies! (October 2nd ~ October 13th)
You will be able to exchange the Pretzels and Gingerbread Hearts with other items through NPC Freya!
The details of exchangeable items can be found below:
| | |
| --- | --- |
| Required Items | Exchanged Item |
| 5x Pretzels + 4x Gingerbread Heart | 1 Ferris Wheel |
| 3x Pretzels + 3x Gingerbread Heart | 1 Swing Trainer K-2 [35%] |
The Ferris Wheel item is character-bound.
All listed items can only be traded once during the event period.
Items that can be exchanged with Pretzels and Gingerbread Hearts will not expire.
We hope you will enjoy the Oktoberfest events!
Shot Online Team