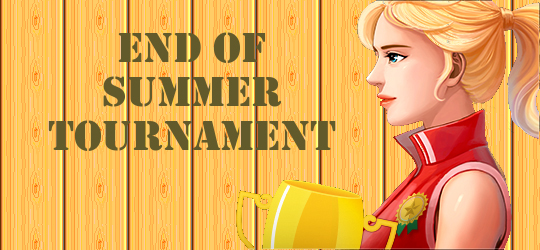 DONE

Sep 17, 2016 00:00 ~ Sep 19, 2016 23:59
Hello Shot Online Community!
The tournaments are returnigng to shot online!

We start with the End Of Summer Tournament.

Here are the rules:
1)
Only ONE (1) character per IP adress allowed*
2)
Course
: Rufus Arena
3) Number of attempts: 10 **
4) Cards: Players can submit up to 4 cards. Minimum of three cards needs to be submited
4) Score: Three best scores will be counted. Lowest total (sum of best 3 results) will be deciding factor
5) Mode: Stroke
6) Minimal level: 60
7) Entry Fee: To celebrate return of tournaments and Shot Online anniversary, entry is FREE

Now the interesting part: Prizes!

Top Three player will receive Titan G Clubs. The rest of reward will be composed of boxes containing various useful items (Ambrosia, Theurgia, Grace Vela VIP card, etc)

There will be 4 brackets and TOP 20 list.
Level requirement for brackets will be announced AFTER the tournament is over (based on participation)

** Note: Unfortunately there is a typo in the Tournament description at Baxter, even if it says that you have only 6 attempts, you have 10 tries for your best score.


TOP 20


1st place: Titan G Iron Set R + 20 Boxes
2nd Place: Titan G 5W R +18 Boxes
3rd Place: Titan G 3w +16 Boxes
Places 4-10: 15 Boxes
Places 10-20:10 Boxes

Bracket 1

1st place: 20 Boxes
2nd Place:18 Boxes
3rd Place: 16 Boxes
Places 4-6: 12 Boxes
Places 7-10: 10 Boxes
Places 10-20: 5 Boxes

Bracket 2

1st place: 18 Boxes
2nd Place:15 Boxes
3rd Place: 12 Boxes
Places 4-6: 10 Boxes
Places 7-10: 8 Boxes
Places 10-20: 4 Boxes

Bracket 3
1st place: 16 Boxes
2nd Place:12 Boxes
3rd Place: 10 Boxes
Places 4-6: 8 Boxes
Places 7-10: 5 Boxes
Places 10-20: 2 Boxes
Bracket 4
1st place: 12 Boxes
2nd Place:10 Boxes
3rd Place: 8 Boxes
Places 4-6: 5 Boxes
Places 7-10: 3 Boxes
Places 10-15: 1 Box


Additionaly we will give 20 random "lucky losers" ( who didnt get prize in any category) 1 box.

Results will be published within 72 hours from the end of tournament. Prizes will be awarded with 7 working days from publication of results. In cas of tie (same score), lower level player will be winner, earliest submission time of last card wil be used as 2nd level tie break

*Special allowance can be made for members of same household who prove their identity.