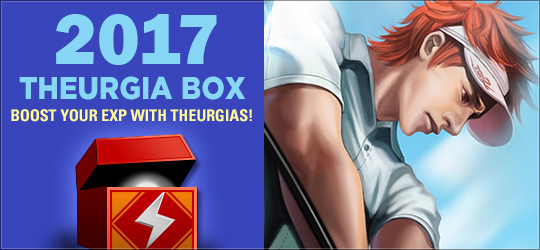 DONE

May 18, 2017 02:00 ~ May 23, 2017 02:00
Hello Shot Online Community,
Its Theurgia time!
Best chance to get awesome P70! Now at reduced price!


2017 Theurgia Box
Available for a limited time!
From Thursday, May 18th, until Tuesday, May 23rd.

Please note that "PURCHASE" links only become available when the sale starts!
REWARD EVENT
Top 10 Openers
5 Random Buyers
Rank 1
Theurgia P70 250 + P65 250

Rank 2
Theurgia P65 250 + P65 150

Rank 3
Theurgia P65 250

Rank 4 to 10
Theurgia P65 150
Random Pick Among Buyers!
Theurgia P65 150
2017 Theurgia Box Contents
Contains one of the following items (Name / Amount*):
Theurgias!
1x Theurgia P70 100/150/250
1x Theurgia P65 100/150/250
1x Theurgia P60 100/250/500
1x Royal Theurgia P55 100/250/500
1x Theurgia P55 100/250/500
1x Theurgia P50 100/250/500
Double Deal!
In some boxes you can find 2 of following items:
2x Theurgia P45 100/250/500
2x Theurgia P40 100/250/500
Rare Sets of Items - For Those Lucky Ones!
SET 1
1x Theurgia P60 100
1x Royal Theurgia P55 100
SET 2
1x Theurgia P60 250
1x Royal Theurgia P55 250
SET 3
1x Royal Theurgia P55 500
1x Theurgia P60 500
If you have any questions or comments about the sale, please contact us through our Forum. Thank you!

Best Regards,
Shot Online Team