We Wish You A Happy Easter!

Dear Shot Online Community,

We hope you can all enjoy a calm easter weekend, full of chocolate-goodness and egg coloring! Whether you celebrate Easter with your friends and family or not, we wish you, as always, a wonderful time... and we won't judge if you just eat your eggs without hiding them first. 😋

🐣 Special Edition: Easter Box 🐣
No special event without a special edition box! Just like on St. Paddy's last month, we're going big this easter and present our "Masterpiece-Packed-EXP-Gallore-Offer-Of-the-Month"... or in short:


Easter Box!

Please note that "PURCHASE" links only become available when the sale starts!

Our most loyal box openers and buyers get additional rewards!

Easter Box Contents
Contains one of the following items (Name / Amount*):
Lucky Drop Map!

To increase your chance of geting random box drops (which might contain Paint Buckets during the Easter Mission Event, which you need to paint eggs), try out this new Map of Lucky Drop!

Map of Lucky Drop Sale will be available until Tuesday 18th April.


🎉 30% Bonus CC Event 🎉

In honor of all busy easter bunnies hiding eggs this weekend, we will be hosting a 30% Bonus CC Event from Thursday, 13th April (00:00) to Sunday 16th April (23:59). Top Up Here!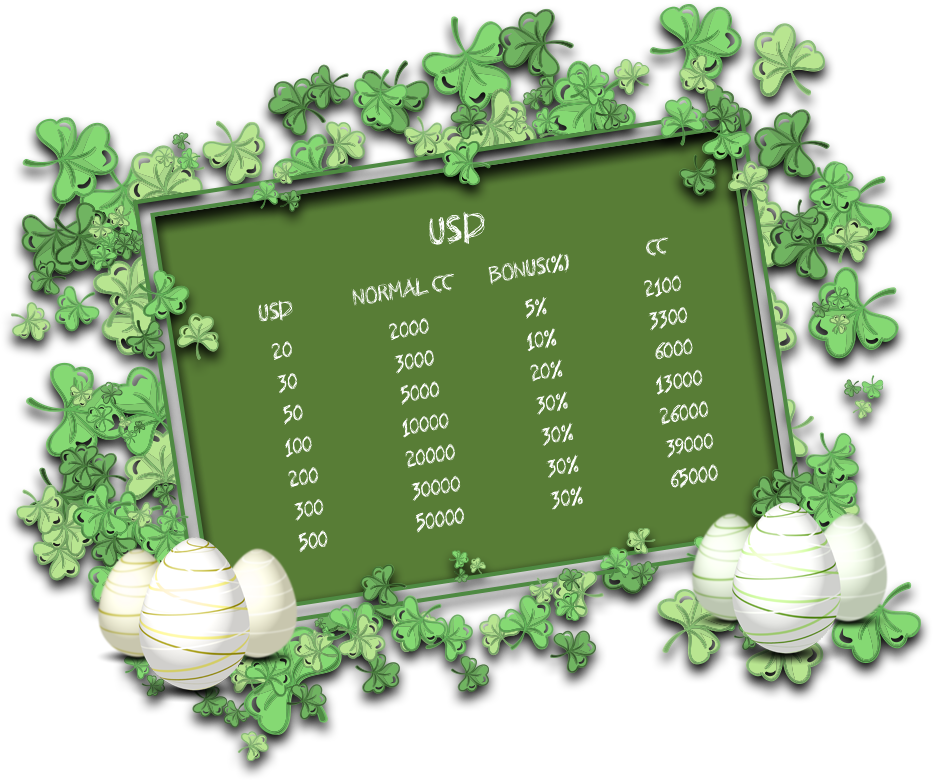 As usual, only the following payment methods will be part of this Bonus Event, and only the above top up sums.

CherryCredits, E-Prepag, GamesCampus Prepaid Game Card, Gocash, GocashCAD, GocashMXN, MOL Card, Moneybookers, PayByCash, Paypal, PaySafeCard*, Rixty, UKash,
Ultimatepay, UOL
*Please note, that PaySafeCard is available through Rixty

*Restrictions: Bonuses are based on the amount per transaction, not combined fill-ups. Some purchase methods may not process right away due to various factors. We are not responsible for the process time delay; we cannot issue out the Bonus CC if your payment does not get processed before the end of the event. First Time Purchase will not be available for this particular event.
🥚 Easter Mission Event 🥚
Don't forget that you can color eggs not only in real life during Easter, but also in Shot Online!

With a little luck you will find one of our hidden White Egg Missions during rounding. Mix it with a bucket of paint from randomly dropped boxes and get colored eggs with a variety of buffs when consumed (or collect them all to get an Easter Basket containing a set of Swing Trainers and 2% of your Level!)

👉 Check out our Easter Mission Event post for more information.


We wish you all the best and a great easter time!
Your Shot Online Team