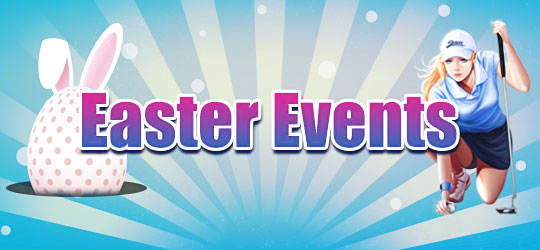 DONE

Apr 10, 2017 10:00 ~ Apr 24, 2017 05:00

Dear Easter Bunnies,
Easter is upon us and bunnies from all over the world are preparing their colourful eggs for the big easter egg hunt. This year, we would also like to send you on a big adventure to find our hidden white eggs and paint them in a variety of colours using Paint Buckets.

All eggs colours serve a purpose, from Mulligans to Ambrosias or Ball Markers! You can also exchange all egg colours for a rare Easter Basket, which provides you with a set of Swing Trainers and 2% of your level!
THE EGG HUNT BEGINS!

10th April 2017 - 24th April 2017
The hunt for White Eggs!
During the Event duration you have a chance to obtain White Eggs on all courses. These Missions appear randomly on all courses and all holes (except CT Park Public and Random Courses).

White Eggs have a durability of 30 days and can therefore not be traded.
Update: We changed White Eggs so that they can be traded on the Square now.

The more difficult the course, the higher the chance to obtain a Mission to receive a White Egg.
Easy Course (3%)

Normal Course (5%)

Difficult Course (6%)

Very Difficult Course (10%)

- Alfheim
- Sosori
- Namchon CC
- Midas Valley
- Wattsu
- Volcano
- Token Tado CC
- Fensalir
- Gladsheim
- Hela
- Forneus
- Hyundai Song Gia
- Sky72 Hanul
- Abel Plena
- Rufus Arena
- Cadeiger
- Pearl Green Island
- Gleiger
- CT Park Royal
- Hidden Forest
- St. Bay
- Bianca Fjord
- Bear Lake
The required score is always Bogey or better. The prize is a White Egg which can be coloured with Paint Buckets at NPC Meriel through the Item Recipe Event.


Additional Mission Requirements:
Mode: Swift Stroke
Players: 3 - 4
Prize: White Egg (tradable on Square)
PAINT BUCKET
So you can take good care of your eggs, we prepared Paint Buckets which you can use to paint your White Egg into different colours. Paint Buckets can be obtained from random Drop Boxes you get while playing Shot Online on any course.
Same rules apply here:
The better (higher graded) the Box, the higher the chance to get a Paint Bucket.
Easy Courses won't provide you with Paint Buckets.
COLOURING EGGS
Eggs are coloured using the Item Recipe Event at NPC Meriel.

You can obtain one egg colour up to 5 times, so the exchange for, for example, a White Egg into a Green Egg only works up to 5 times, after that you will not be able to obtain any more Green Eggs. Each colour has a different function. You can also obtain one of each colour (so, 6 eggs total), to exchange them for an Easter Basket.

Easter Basket Contents:
The Easter Basket contains 2% of your current level and a set of our best Swing Trainers (2 Hrs, 30%): Power, Impact, and Skill. These Swing Trainers don't have an expiry date and are not tradabe.


Function of the different coloured eggs:
Metis Gem 50
Mulligan 3
P.Dens Ticket 50
Ambrosia 30% 5
Improved Ballmarker A 5
Zodiac Pin III 100
Coloured eggs have a durability of 30 Days after obtaining them and can not be traded.

As previously explained, White Eggs can be coloured through the Item Recipe Event at NPC Meriel. You can exchange the Easter Basket the same way. The Item Recipe Event is only available during this Event.

We wish you best of luck with your Egg Hunt in Shot Online!

Your Shot Online Team