Hang on to your heart as we kick off Valentine's week,
launching events in every direction like a storm of arrows!
From the 14th to the 21st of February, Cupid will be getting a 100% hit rate on the webzen.com portal!

Now that we're on the subject, a word about Cupid (who is a Hero archer, level 155 on Flyff and 190 on Rappelz). On paper, the cherub is a top-notch pro gamer, who you'd be crazy not to want on your team! He is also a pretty good golfer. Indeed, just take a look at his stats...
"Bogeys" he only heard about them, but never experienced them.
"Pa(i)rs" Cupid is an expert in the field of pairs.
"Hole in Ones" Cupid rarely misses his target, and usualy hits it straight away.
"Low Flying Heart" He tends to send his balls low and fast, so be careful, or you will never know what hit you!
The only problem is... he fires at random! Moreover, he's always on friendly fire mode. We just took Cupid on the course here at WEBZEN, and the little cherub kicks ass! So what does Cupid have in store for this Valentine's Event?

Special Edition: Valentine's Box

This does not only include some of the most popular Masterpiece Clubs in the game, but also some of the strongest EXP Items! Perfect in combination with the upcoming "Gladsheim On Fire" EXP Event next week (more on that will be announced next week - be prepared)!

This special box will be available on 14th February, for a whole week! Check our dedicated Valentine's Box Announcement for more details on the contents.

Sale Starts Tomorrow, 14th February!

Valentine's Bonus CC

From the 14th to the 21st of February, get up to 30% Bonus CC! This replaces the usual end-of-month Bonus CC Event, so don't miss out!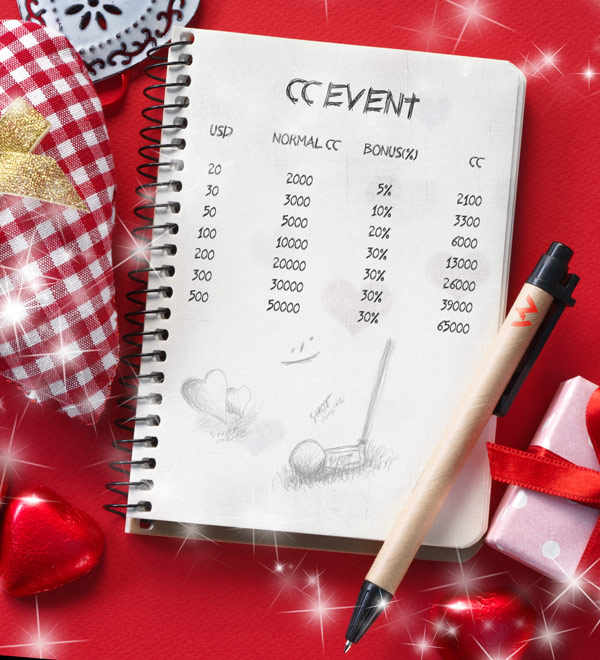 As usual, only the following payment methods will be part of this Bonus Event, and only the above top up sums.

CherryCredits, E-Prepag, GamesCampus Prepaid Game Card, Gocash, GocashCAD, GocashMXN, MOL Card, Moneybookers, PayByCash, Paypal, PaySafeCard*, Rixty, UKash, Ultimatepay, UOL *Please note, that PaySafeCard is available through Rixty

*Restrictions: Bonuses are based on the amount per transaction, not combined fill-ups. Some purchase methods may not process right away due to various factors. We are not responsible for the process time delay; we cannot issue out the Bonus CC if your payment does not get processed before the end of the event. First Time Purchase will not be available for this particular event.
Events For You And Loved Ones!

A burst of events concocted by our lovely community managers for ALL our games!

Upgraded Midweek Workout EXP Event
To compliment Midweek Workout, Foursome mode games will have their extra XP raised to 2.5x EXP!

Valentine's Mission Event (15-20.02)
From 15th February we have a Mission event prepared for all our players - Play Foursome on Cadeigar, Gleiger, pearl Green Island Gladsheim or Abel Plena for a chance to get Mission box! (there is a chance you will get mission for each hole!). Score Birdie or better and box is yours!

Valentine Costumes!
For limited time you can buy them directly in our web and in-game store!


Valentine Costume (2000)
399 CC
PURCHASE

Valentine Costume (1000) 299 CC
We wish you a great Valentine's week...

... and hope Cupid will be part of your next team in the dungeon of life!
In any case, have fun and fire those arrows!
Your WEBZEN "Passion" Team