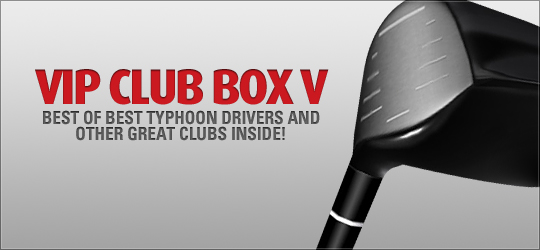 DONE

Sep 13, 2012 11:00 ~ Sep 18, 2012 15:00
Hello Golfers,
VIP Club Box V with Typhoon Drivers will be on sale this weekend!
Along with the box release, we will be having an Open Box Event.
VIP Open Box Event Period : Thursday, 9/13/12, 11:00 AM ~ Tuesday, 9/18/12, 3:00 PM server time.
For those of you who are not familiar with the Open Box Event, I will explain it really quick.
---
How it works:
Each player account will be tracked and each VIP Club Box V item that is opened by any player on the account will be tallied for each server. This event only applies to and tracks stats for the new item, other box versions are not being counted toward your total. However, it does not matter where you gained the box from so regardless of whether they're bought from the Item Mall, the Auction House, or from another player directly, they will still count toward your total if they are opened on your account.
All you have to do is, open the boxes to participate in this event! Real easy. =]
Rewards:
21 ~ 30 Boxes open: Clymene Gem 2000 (30%)
31 ~ 40 Boxes open: Fitting Ticket - Power Perfection
over 41 ~ under Top10 : Fitting Ticket - Skill Perfection & Odin Gem III 1000 (Skill +3)
(Players that open over 41 boxes but that didn't make it to TOP 10)
TOP 10 Box openers will win: Hybrid G LE Putter R (55%) & Zodiac Gem II 2000
*NOTICE: This event's winners will not be divided by server, 10 total winners for top prize
The prizes DO NOT ACCUMULATE, so you will only gain the prize for the category you are in. For example, if you open 38 boxes on your account you will gain one Fitting Ticket - Power Perfection but not the Clymene Gem 2000(30%). If you open 45 boxes you would get the Fitting Ticket - Skill Perfection and Odin Gem III 1000, but not the ones from the lower tiers.
***SPECIAL EDITION EVENT: For this event, we're also giving away special items if players open more than
200
boxes!***
IF YOU OPEN MORE THAN 200 BOXES:
Typhoon MG Driver R [10*] & Fitting Ticket - Skill Perfection Plus
in ADDITION to the other prizes you
---
This is a great chance to get the new Typhoon Drivers. Don't miss out on it!
Best of luck to everyone on getting the new Typhoon Drivers.
Please click
*Here*
if you want to know more about the
VIP Club Box V.
Please feel free to contact us via DQ&A board if you have any questions or comments.
Thank you.
Shot Online Team