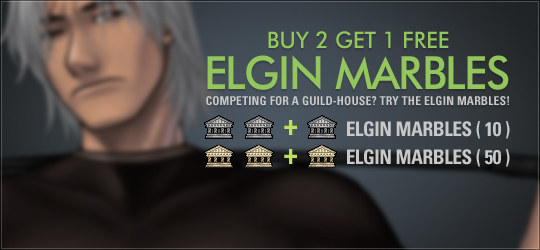 DONE

Aug 27, 2012 12:00 ~ Aug 31, 2012 15:00
Hello Shot Online Players
We are having a > Buy 2 & Get 1 Free< deal on Elgin Marbles this week!

Buy 2 & Get 1 Free Elgin Marbles
We are offering Buy 2 Get 1 Free Elgin Marbles 10 and 50! With the Elgin Marbles, your guild will be able to collect more Guild Coupons to help you secure a Guild House spot.

NOTE: You can also purchase these items from the in-game item mall!
Sale Period:
Start: 08/27/2012 12:00:00 (server time)
End: 08/31/2012 15:00:00 (server time)

We hope you enjoy this sale!

Sincerely,
Shot-Online Team