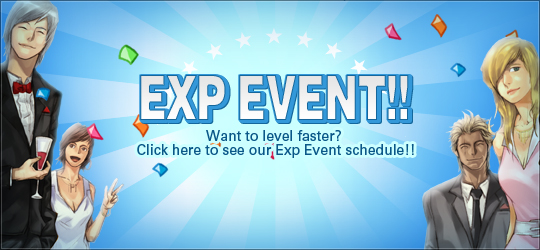 DONE

Jul 27, 2012 00:00 ~ Jul 30, 2012 23:59
Hello everyone,
Along with
the release of our new Pleta Box
, which is filled with some amazing EXP items, and the
Pleta Box related events
, we will be holding an
EXP & Drop event
to hopefully make the weekend more
enjoyable
for you!
Starting tomorrow, Friday, July 27th 2012,
we will be having an EXP & Drop event that will last
until, Monday, July 30th, 2012.
On Friday and Monday, the bonus EXP amount & Drop rate will be DOUBLED. (x2)
On Saturday and Sunday, we will TRIPLE(x3) the EXP amount along with the x2 drop-rate.
Please see the table below.
| | | |
| --- | --- | --- |
| Date | EXP Bonus | Drop Bonus |
| Friday, 7/27/12 (00:00:00 ~ 23:59:59 server time) | x2 EXP | x2 Drop-rate |
| Saturday, 7/28/12 (00:00:00 ~ 23:59:59 server time) | x3 EXP | x2 Drop-rate |
| Sunday, 7/29/12 (00:00:00 ~ 23:59:59 server time) | x3 EXP | x2 Drop-rate |
| Monday, 7/30/12 (00:00:00 ~ 23:59:59 server time) | x2 EXP | x2 Drop-rate |
We've decided to rasie the EXP bonus to x3 for Saturday and Sunday as more players log-in on these days than on Friday and Monday. (Just in case if anyone is wondering why we are giving out more EXP on Saturday and Sunday only)

On a side note, there are some rumors about us closing down the game in the near future but I can promise you that this is NOT TRUE. We will be continuing our service and we are not even remotely close to "closing down the service". Shot Online will live FOREVER! (Maybe not forever... but you know what I mean. = ])

That's about it! Please enjoy the weekend events and let us know if you have any questions or comments via DQ&A board.
Thank you for all the love and support!


Sincerely,
Shot Online Team
Golf Game - Shot Online